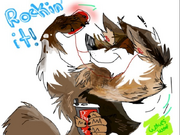 http://disney.go.com/create/artists/wolveswolf
"
D-name: wolveswolf Mascot: Tucker (bear) URL: disney.go.com/create/artists/wolveswolf Tool: Mouse (currently)
Art Styles
wolveswolf is a talented artist that usually uses the style of "paint splatter" He/she uses a mouse, does unique sketching, and has an odd (but cool) type of wolf style. Wolveswolf  does sometimes use a sort of a Balto kind of style.
About
Wolveswolf has over 21,000 stars and about 500 fans. he/she loves Charlie from the movie "All Dogs go to Heaven" and mostly only does cute drawings. :3 when wolveswolf started they about only drew characters from movies. (like- charlie, sasha, brother bear, and lion king) then, he/she eased into their own style and started drawing charlie in all different ways. Then they made one of the first Bear mascots on create, Tucker. though he/she has about 500 fans, wolveswolf doesnt have very much drawings. They are very creative in style, backround, and in random drawings, just about everything. And wolveswolf believes everyone is awesome. xD (if i got anything wrong dont judge) x3 Mascots and OC's-
Thats it.
Ad blocker interference detected!
Wikia is a free-to-use site that makes money from advertising. We have a modified experience for viewers using ad blockers

Wikia is not accessible if you've made further modifications. Remove the custom ad blocker rule(s) and the page will load as expected.