Ok, I'm having a debate with myself...
Am I afraid of spiders the most or heights the most?
That's my debate. I need your opinion on what your afraid of most: Spiders or heights?
Plus, if you wanna be extra creative, explain what your really afraid of most.
Talking about your fear helps, like a phobia, insanity, amnisia(well, that's actually not a self-mental problem).
But it's like they say:
A man's biggest fear is himself.
P.S. From now on, you can call me: Water the bookworm XD
P.S.S. Life is a game, with cheat codes enabled XD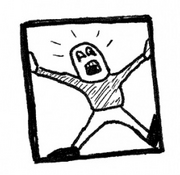 Ad blocker interference detected!
Wikia is a free-to-use site that makes money from advertising. We have a modified experience for viewers using ad blockers

Wikia is not accessible if you've made further modifications. Remove the custom ad blocker rule(s) and the page will load as expected.