I am back on DC!!! Yay and stuff! I drew my first picture also! I am back on DC once again! I will and will not do the following.
-I wont fan anyone (except Nicolette, cause she's my friend in real life)
-I wont favorite anything
-I won't draw anyone's OC's (Once again, except Nicolette, because her Eddsworld character is one of the main characters in my cartoon, I might draw someone's OC if they are a lucky goose)
-I won't start any contests (I might enter some though)
-I wont draw in PPG style
-and Eddsworld style will be my main style I will draw in
Also, if I ever come back, it will be a different account. (It will be named TheLilli2004) :)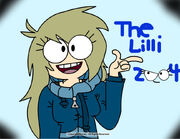 Here is the drawing I did. (I hope it will publish!)
Ad blocker interference detected!
Wikia is a free-to-use site that makes money from advertising. We have a modified experience for viewers using ad blockers

Wikia is not accessible if you've made further modifications. Remove the custom ad blocker rule(s) and the page will load as expected.