I wanted to do something this month, and I forgot that on the 11th it was Lightning Bolt was created on that day! SOOOO because I forgot until just today, HAPPY LATE BIRTHDAY, LIGHTNING BOLT!! XD!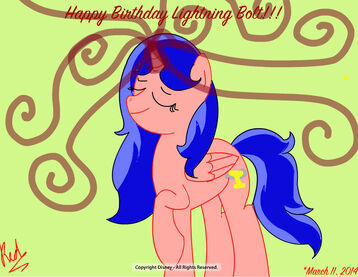 WOO! LETS CELEBRATE! PAARRRRRRTTTY!!
Anyways Happy Birthday to one of the best pony I've invented :3!
WOOOOOOOO! PARTY TIIIIIIMMMMMMMEE!! 
Ad blocker interference detected!
Wikia is a free-to-use site that makes money from advertising. We have a modified experience for viewers using ad blockers

Wikia is not accessible if you've made further modifications. Remove the custom ad blocker rule(s) and the page will load as expected.