Hey guys, If you havent knew I am new to this wiki so I am gonna make my offcial 1st blog post yey O_O From Candifloss I found a link that took me to Pixel Painter, its not perfect but it will work until I find something else, Also, the save and stamps are JUST like the old lay-out I remember it because I was a artist in 2010. So wow, its somewhat back and how you can share and save your art is.... 1. Finish your art ( of course ) 2. Take out the snipping tool in your computer, if you have windows 8 like I do go to search and search for it, anyway, any computer, there IS a snipping tool. 3. Snip it and save to a file in your computer. 4. Have fun! ~ Miss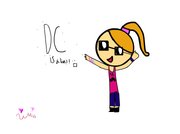 Ad blocker interference detected!
Wikia is a free-to-use site that makes money from advertising. We have a modified experience for viewers using ad blockers

Wikia is not accessible if you've made further modifications. Remove the custom ad blocker rule(s) and the page will load as expected.