Well firstly, I'd like to apologize for such inactivity on Create. I've drawn a few things on there within recent months, but all of which have yet to be approved.....
Anyway, I'd like to officially announce my departure from Disney Create.
It's been extremely fun while it's lasted; alas I have moved on to other art sites and apps, especially because Create was made for the "younger audience" as where I am now soon-to-be 16 years old and no longer fit in with that age group.
It's amazing to look back at all the awesome memories and friends I've made on there (since that was actually where I first began to draw on the computer). I love every single one of you and appreciate everything you all have done for me.
Your encouragement and various forms of accolades (whether it be by praise or fanart of the like, thank you) have allowed me to continue on with art feeling proud and motivated to do what I love and share it with the world.
My life-long dream has been (for actually quite some many years) to work with Tim Burton, my idol and inspiration. And I'm continuing to strive to reach that goal, though it may seem unrealistic.
Never give up hope. Never give up your dreams. Continue doing what you love and make the best of it. Don't let anyone tell you otherwise and bring you down. Prosper.
These are my final words for Disney Create.
And with that, I thank you.
Goodbye.
Love,
ECLIPSED_MOON13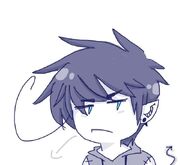 Ad blocker interference detected!
Wikia is a free-to-use site that makes money from advertising. We have a modified experience for viewers using ad blockers

Wikia is not accessible if you've made further modifications. Remove the custom ad blocker rule(s) and the page will load as expected.