I JUST came back from school adn its 4:32 where i am. I had a tornado warning and i had to stay there for so long and i was all by myself, not with my family, some of my friends, and i was so dang scared. I hate the weather these days. I've never been in an actual tornado drill at school and i have so much homework and i have piano class! NO time to relax! Tommorrow's my last day of school and this happens ;n;. What I've been waiting for was sunlight and hot days. What i get is rainy days and thunder. Oh whhhhyyyyyy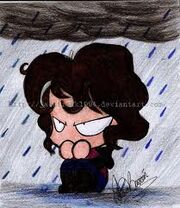 Ad blocker interference detected!
Wikia is a free-to-use site that makes money from advertising. We have a modified experience for viewers using ad blockers

Wikia is not accessible if you've made further modifications. Remove the custom ad blocker rule(s) and the page will load as expected.