Hey guys! Im bored so im just doin this! Anyone tried the cereal Waffle Crunch?? XD eatin some right now! it has a strong smell..... but its good! this is one of my new styles. i will be drawing in both of my styles...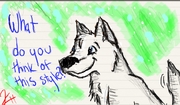 i did it real quick so it's not that good. HOLY POOP!! I just heard i GIANT blow of thunder out of the window! talk to you soon!
Ad blocker interference detected!
Wikia is a free-to-use site that makes money from advertising. We have a modified experience for viewers using ad blockers

Wikia is not accessible if you've made further modifications. Remove the custom ad blocker rule(s) and the page will load as expected.