Hey guys! BaltoCreations here! I will be updating you on stuff that's going on on create, my upcoming drawings, and more! I use a Wacom Bamboo Create tablet, not a mouse. If you don't have a tablet than a Wacom one is they way to go! Oh p.s. i love the games on this tablet! Anyways so i am working on a group picture (i drew it first in my sketch book like i usally do) With the Mascots of the people im so happy that fanned me! Here are a list of them just for funzies XD
Dogdaisypoodle (Daisy)
unknownartist (Clive)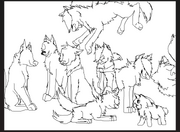 wolveswolf (Tucker)
mkaymickey (Luna)
Tonkonesekitty (River)
wolf227 (Strix)
charfluff (Clank)
supercreations (Super)
and Emily!
Anyway i'm working on requests and offers (like i'll draw so and so for you) Anyways i love when people ask if i could create an animal for them! I use the website doll divine and use (whatever animal they asked for) Creator, if i dont have any ideas in mind. Anyway so, Request if you have an account! I'll get back to you ASAP XD
Ad blocker interference detected!
Wikia is a free-to-use site that makes money from advertising. We have a modified experience for viewers using ad blockers

Wikia is not accessible if you've made further modifications. Remove the custom ad blocker rule(s) and the page will load as expected.