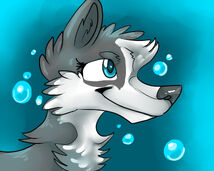 Hey Create! :3 I recently learned about this place about a month or two ago. I wish I had sooner. x3 Any ways this is where I'll put up art or random stuff I have made. Sorta like a gallery. This will probably grow more over the summer. So far this is wip. I will have my Paint Tool Sai drawings up soon.
Made on Create:
Here are a couple of my drawings from create. More to be added later.
Made on Computer:
These are drawings from Paint Tool Sai. This is where most of my newer stuff will be made on.
Requests?
I am open to requests of your characters or of something you want me to draw :3. Please provide a ref or detailed description of your character or thing. Do NOT claim the art as your own.
What I am able to draw:
-Wolves
-MLP
-Dragons
-Plants
-Birds
-Sharks/fish/sea creatures ect.
-Cats
-Space related scenes
-Pokemon
-Spaceships
-Maybe mice?
-SCs
Ad blocker interference detected!
Wikia is a free-to-use site that makes money from advertising. We have a modified experience for viewers using ad blockers

Wikia is not accessible if you've made further modifications. Remove the custom ad blocker rule(s) and the page will load as expected.