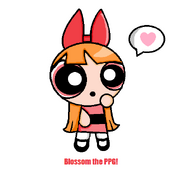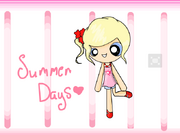 Pinkie had 2,800+ fans before disney create closed.
Style
Her main mascots are Pinkie, Chloe and Sophie. Her very first mascot had reddish hair and green eyes.
♡Don't forget to check out her art on Deviantart!♡
Friends (No specific order)
Mockingjay1001
Candifloss
Theyashd
ROCKY-COOKIE
Vampireart4
Sarasparks
oO_Birdie_Oo
lilderpderp
Zuesdemuigod2002
123Lovelost
VEEN_RED_ROSE
Im_Pawprintz
Cutie_Cat1001
Under_Par
ROTTWEILERCAKE 
Mist566
Elegantly_Art1
Sameehagirl11
Swimmy130
andreathethird
Eclipseowl (Guest526748974)
I_likes_Wolves/ Wolfie
Steps4554
Ghoulfriendtime (Ghoulgirlgotspirit10/Ghoullycats)
And many more! Feel free to add yourself :)
Her PPG Style
PinkShimmer16 (also Pinkshimmer10, DC has messed up) has adapted her own style of PPGs over time. Her characters are smaller, and the bodies are much skinnier, the legs much longer also. Her hairstyles tend to be shorter than those of artists such as Candifloss, which reach down to the lower back or even longer. 
One of the eyes is bigger than the other, another obvious giveaway that a piece of art is hers. She also tends to draw tank tops that get wider at the ends and shorts for an outfit frequently. 
Pinkie has finally reached her goal of 2,000 fans and 75+ watchers on DA! <3
♡  Luv you guys  ♡  Thanks for all teh fans and watchers :D -Pinkeh
Ad blocker interference detected!
Wikia is a free-to-use site that makes money from advertising. We have a modified experience for viewers using ad blockers

Wikia is not accessible if you've made further modifications. Remove the custom ad blocker rule(s) and the page will load as expected.