Littlemisscopycat is a new artist with no stars or fans. She is currently a guest.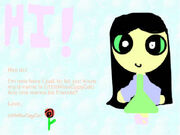 Styles
  I have only done 1 piece of art, but I am going to try:
ppg
manga
mlp
OSC's
and so many more! But I mostly like to draw in PPG!
Facts
Here are some facts about me.
I wear glasses ( I hate them) If you draw me DON'T add the glasses!
I AM NOT A COPIER
I am Guest528265120
Her favorite ocs on DC are: April the hedgehog, Poochy the Rottweiler, Carrie the ppg, Sno-rust the mlp :)
Ad blocker interference detected!
Wikia is a free-to-use site that makes money from advertising. We have a modified experience for viewers using ad blockers

Wikia is not accessible if you've made further modifications. Remove the custom ad blocker rule(s) and the page will load as expected.