Ginnyweasley is a popular artist with a total of 1000+ fans and 40,000+ stars. Her art
Styles
Ginny's main style is MLP. She rarely uses any other styles, but she has drawn PPG, EG, and Manga. 
Mascots
What makes GinnyWeasley stand out so much is her wildly popular mascot, Spectra Electra. She won Spectra Electra in a giveaway made by Fuuny56. Ever since people have really loved her.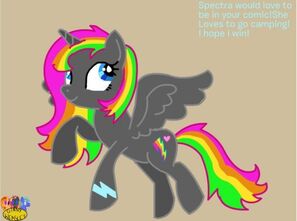 Ginny has a long list of other mascots. (names unknown yet) Here are the majority of her main mascots summed up in a picture. She has many many others but not all get used very often.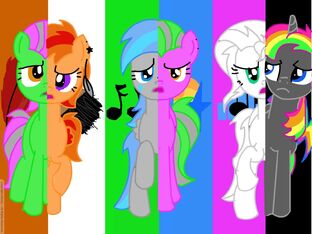 Theft
Ginnyweasley678 was once known to copy drawings and poses in the past but has now said that she is sorry and wont do it again. So give Ginny a chance, she is not a bad person, after all everyone makes mistakes.
But the main problem is her OC Spectra Electra. Ginny herself has not stolen Spectra, but since she won her in a giveaway, fuuny56 is to blame. How do we know it's a copy? This picture was found on DeviantArt showing a picture of Spectra. All credit of finding the original copy goes to sunnykitty123. //runningwiththedobees.deviantart.com/art/NEW-OC-Spectra-Electra-396596808 The giveaway was created in September while the picture was made in August. Sources have also asked the DA artist if they knew DC proving it isnt Fuuny herself. Therefore Ginny is using a stolen pony. But a DC artist Rapunzelosum was talking to GinnyWeasley678 and said that she knows the artist who originally created Spectra Electra and that she said Ginny could keep her.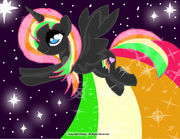 Ad blocker interference detected!
Wikia is a free-to-use site that makes money from advertising. We have a modified experience for viewers using ad blockers

Wikia is not accessible if you've made further modifications. Remove the custom ad blocker rule(s) and the page will load as expected.