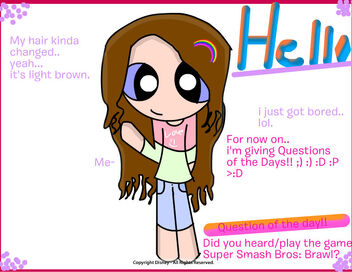 "
Remember you're perfect, but remind yourself to make some mistakes in your life."
~Ghoulgirlgotspirit10
Ghoulgirlgotspirit10
I do some Anime,My little pony,Powerpuff girls,and maybe etc.
Ghoulgirlgotspirit10's Description
Hello,there! My name is Ghoul. You could call me Ghoul,ghoully,Ghoully cats,or yeah just plain Ghoul.
My Friends
Vampireart4
Fire-love100
Mist566
Pinkshimmer10
Candifloss
Bronypowa Snivyluver
RC12
Petshopface
CDiane2000. 
Bo Bo Joe
Sarasparks
TeamFinnickOdair
Crazycat1802
Under_Par
Zeldathegreat
Kirokonnai (BubbleSkirtDC)
123Lovelost
Kletom
LilDerpDerp
Meemers
GraceRaincloud
ROTTWEILERCAKE
Elegantly_Art1
 WATERPAINTER1144
The Name's Raven >:3
These are in no particular order! If I forgot you, please add yourself in!
My favorite things in the world
Greek Mythology
My Family
Music
Disney Create
Drawing
Friends
Youtube
Minecraft
food
​​Things I hate in the universe
Insects
Mean People Who Bullies
Bad Hair Day
Ad blocker interference detected!
Wikia is a free-to-use site that makes money from advertising. We have a modified experience for viewers using ad blockers

Wikia is not accessible if you've made further modifications. Remove the custom ad blocker rule(s) and the page will load as expected.