Fursonas are a popular idea you will see throughout your experiences on Create. They're like mascots, but they usually express the creator and appear as any animal (usually furry ones). They are branched off from personas.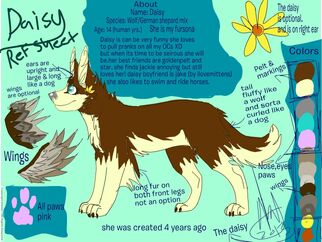 How to Make a Fursona
First of all, fursonas have to portray you. They're usually the same gender as their creator [you]. They can be given any name as you choose, and may look however you'd prefer, but to be a fursona their personality must resemble some part of yours and should represent you. Most artists tend to have one main fursona on Disney Create.
Fursonas of DC
There have been many created, but here are various examples of fursonas found on Disney Create and its Wiki.
Snowflakes (Im_Pawprintz) 
Moon (petshopface)
Stripetail (Mist566)
Uni (unknownartist)
Luna (mkaymickey)
Penny (Rustyscreech)
Luna (ILOVEMITTENS517)
Cloudpuff (sunnykitty123)
Natasuki (Drizzleanime)
Ash(create2289)
Ad blocker interference detected!
Wikia is a free-to-use site that makes money from advertising. We have a modified experience for viewers using ad blockers

Wikia is not accessible if you've made further modifications. Remove the custom ad blocker rule(s) and the page will load as expected.