About
DerpyHooves78 was an artists on Disney Create from July 2013 - May 2014. She had another account before then, but she forgot the password to it. She mainly drew in the my little pony style (which she regrets now). She also drew in a Powerpuff girl-like style and Gravity falls Style. She admits she was not very good, but that never stopped her. Her main OC was Stormy (a pony). She also drew herself a lot. She first got popular on November 22, 2013 (yes that is the exact date). She won a contest hosted by Disney's Create account. She ended with around 200 fans and 2500 stars.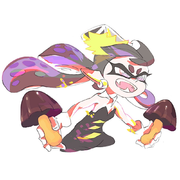 Ad blocker interference detected!
Wikia is a free-to-use site that makes money from advertising. We have a modified experience for viewers using ad blockers

Wikia is not accessible if you've made further modifications. Remove the custom ad blocker rule(s) and the page will load as expected.