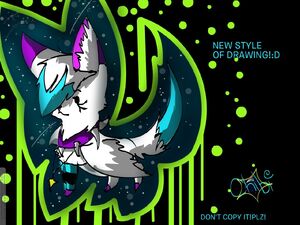 Chibistar4 currently has more than 290 fans and more than 5000 stars.
Style
Her style is a chibi style, (hence the name)
Has only drew dragons, wolves, cats, birds and disney channel characters and teen titans.She also draws characters
from Futurama
Personality and likes
She likes the shows gravity falls and teen titans,seen in most of her art.Also, Futurama
She likes nice and cool backgrounds with amazing designs, seen in her newer art.
She has a da search her
Her favorite artists are Petshopface and Dogdaisypoodle
She is really good friends with petshopface.
Ad blocker interference detected!
Wikia is a free-to-use site that makes money from advertising. We have a modified experience for viewers using ad blockers

Wikia is not accessible if you've made further modifications. Remove the custom ad blocker rule(s) and the page will load as expected.