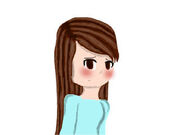 Britt119
Britt119 is a not-so-well-known artist on Disney Create with almost 80 fans and 2000+ stars. She uses mainly an anime sort of style, but also uses a pony sort of style when she has nothing to do. Her art hardly gets approved (even when SHE gets like more than 70 d-points).
Britt119 irl
I am a girl
I am a bit...thick (if you know what i mean)
I just LOVE anime
I am shy and quiet, but if you get in my nerves...
I have long brown hair, usually messy but naturally straight
I watch the anime Hetalia ALOT (i made my big and my little sister like it too >:3)
I wear glasses (i don't really draw them on me in my drawings)
Yea this page really sucks lol~Britt119
Ad blocker interference detected!
Wikia is a free-to-use site that makes money from advertising. We have a modified experience for viewers using ad blockers

Wikia is not accessible if you've made further modifications. Remove the custom ad blocker rule(s) and the page will load as expected.