When I was a little girl i was all ways that shy girl in the corner with no friends.At that point i could not draw.A few years later say 2nd grade i found my passion for art.I started drawing and drawing until i thought of no more.I read that everybody is creative...they just wont accept it.Now i draw elemental wolfs,rarly chibi,etc.I've drew the fire elemental wolf on the right hand of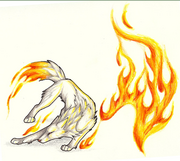 the screen.I also drew many others on the bottom left hand corner.Thanks for reading and feel free to edit my wiki page.
Ad blocker interference detected!
Wikia is a free-to-use site that makes money from advertising. We have a modified experience for viewers using ad blockers

Wikia is not accessible if you've made further modifications. Remove the custom ad blocker rule(s) and the page will load as expected.